2014-2015 Departmental Fellows
Departmental Fellows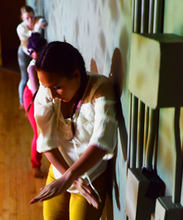 Rachel Halteman '14
Major/Minor:
Dance Major, Pre-Med Concentration
Hometown: Boulder, CO
Modern/Post-­‐modern II, Performance
Somatics I, II
African I, II, III, Performance
Text/Voice Based Composition
Site Based Composition
Africa Moves! '14
Laban Movement Analysis
Vail Scholar 2013-­‐2014
Ever since I can remember I have been a dancer. Whether I was in my living room, in a class or in performances I was always dancing. I was never good at staying still or at suppressing the desire to move with the music. I have always found freedom in expressing myself through dance. Dance has helped me find my family away from home, taught me discipline, given me the strength to push through tough times, and the determination to achieve my goals.
As I have grown in life, I have grown as a dancer. Throughout my journey as a dancer I have had the opportunity to explore dance from both the dancer's and the choreographer's perspective. I have discovered I am interested in what being a dancer in a solo performance setting can teach me about who I am as a dancer, and what the challenges faced in producing and performing in a solo environment.
Coming to Denison I was not sure if I would be getting a degree in dance, but after my first day of dance class and my first audition I knew I would be majoring in dance. Dance is something so engrained in who I am that if I were to try to eliminate it from my life I would lose who I am. Being part of the Department of Dance has helped me rediscover why I love dancing, establish a home away from home, and most importantly, it has helped me in my journey of finding myself. I hope in this year I can help others find themselves, their home, and their family through dance.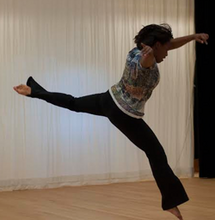 Jessica Merrills '14
Major/Minor:
Dance and Creative Writing Double Major
Hometown: Chicago, IL
Modern/Postmodern II, III, Performance
Laban Movement Analysis
African/Diasporan II, III, Performance
Text/Voice Based Composition
Somatics I
Seminar In Production
I have grown up with dance in my life ever since I could remember but I started formal training at nine years old. While in elementary school, I trained in jazz, tap, and ballet. Once I started high school, I began training in strictly ballet, pointe and modern dance. I got the chance to experience dance in a way my high school friends never did or never had the opportunity to do or simply did not think to do what I did. Dance has taught me discipline, confidence, and empowerment but most importantly, I learned to be grateful for what I have. Dance is a privilege and an opportunity that as prominent as it is to see and do, many people will not experience it whether through fun or formal training. Dance is a way of expression but it is also rewarding and challenging as well as something that has simply always been a part of my life.
Being a Dance major at Denison helped me understand myself as a dancer and grow even more passion for the art. I learned dance is greater than the tricks we see in some performances. I learned that dance is greater than what we even allow our minds to fathom. Dance is a lifestyle. A dancer does not have to be professional or simply be someone that has gotten awards or recognition. At the end of the day, despite where we as dancers place dance in our lives, we truly remain dancers. It is a choice and an impact. Someday, not too soon, I want to perform and share myself as a dancer. I also want to teach kids and show them the impact of dance. The only way to know the spotlight is when you place it on yourself.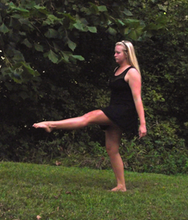 Kristen Locey '14
Hometown: Columbus, OH
Voice/Text Based Composition
Somatics II
Site-Based Composition
African/Diasporan II, III, Performance
Laban Movement Analysis
Modern/Postmodern I, II, III, Performance
Labanotation
Vail Scholar 2013-2014
I have always been a dancer, whether I realized it or not. I remember making up silly little dances to A-Teens songs when I was younger and then I was able to dance more through winterguard. It wasn't until coming to Denison that I was finally able to pursue my dreams of dancing through actual instruction. I fell in love with the department after taking one technique class and knew that I belonged in the world of dance. I declared my major as dance and have never looked back. During my journey here at Denison I have flourished as a dancer. I went from knowing very little technique to being enrolled in level three technique classes. More importantly, I have grown as a person. Dancing has brought out this confidence in myself that I've never had before. Dance has helped me in all aspics of my life. It has taught me confidence as well as modesty and how to find a comfortable balance between the two. My view of the world has completely changed because of dance and I am able to be more analytical about everything I see. I am honored to be a fellow in the Dance Department this year and I believe that I wouldn't be as beautiful without all of my fellow dancers and professors who have strongly influenced me.
Graciella Maiolatesi '15
Major/Minor:
Dance and Black Studies Double Major
Hometown: Amherst, MA
African/Diasporan I, II, III
Text/Voice Based Composition
Modern/Postmodern II
Osborne Scholar 2014-2015
Laban Movement Analysis
Summer Research Scholar 2014
Cultural Studies
I began my dance career during my junior year of high school. Many would say that I arrived too late to the dance world, but I believe that I arrived just on time. In the Fall semester of 2012, I arrived at Denison University with two years of West African Dance training under my belt; I decided to take African Dance 1 my first semester so I could get dance "out of my system." Two years later, I am now a Double-Major in Dance and Black Studies, a Dance Department Fellow, a Denison Dance Department Summer Research Scholar, and I have been involved in six performances and nine department courses. Clearly I don't know what "get dance out of my system" means. I love to dance both inside and out of the studio, but I recognize that I would not be the unique dancer that I am today if it weren't for the Denison University Dance Department. Within this department I have been challenged physically, mentally, and emotionally. To continuously be able to work with both my professors and peers has been a truly humbling experience, one that I am so grateful for. What I have taken away from my experience, as a whole, is that you have to dare to be. Asé.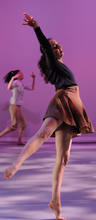 Haley Bruce '15
Major/Minor:
Dance and Creative Writing Double Major
Hometown: St. Joseph, MI
African/Diasporan I, II, Performance
Modern/Postmodern II, Performance
Somatics I
Laban Movement Analysis
Movement and Maps
Labanotation
Contact Improvisation
Vail Scholar 2014-2015
I began dancing before I could walk. My dad would play Harry Belafonte's "Jump in the Line" and I would start to move one shoulder. Since then, I've never stopped. I began ballet and tap at the age of four, alongside other sports and music lessons, but every few years, I'd add more dance to my schedule and drop out of another activity. In middle school I attended Blue Lake Fine Arts Camp and realized dance wasn't just an after school activity for me anymore. Dance is what I do. It is my passion, my stress-relief, my source of happiness and friendships, and the thing I want to pursue. I decided this at the age of twelve, and have never questioned it. Since then I have studied ballet, pointe, tap, jazz, contemporary, modern, hip hop, improvisation, musical theatre, and floor barre. I performed with the Blue Lake International Ballet Ensemble in the Summer of 2010, touring Germany, France, and Belgium, and grew so much during those weeks. In high school, I performed with the Citadel Dance Company where I studied with Lari Lawrence-Gist who taught me more than anyone. It was during these years that I truly found myself as a dancer and began to gain confidence in my technique and in my artistry. I have also attended Jazz Dance World Congress in 2012 and the American College Dance Festival Association in 2013. As a Dance and Creative Writing Double Major at Denison I have expanded my view of the dance world. I choreographed "Seussical" at Heath High School in the Spring of 2014, and have performed in many works including "When Sunday Comes" during the residency of the Dayton Contemporary Dance Company. This year, I'm thrilled to be even more involved in the department as a Junior Fellow, a Veil Scholar, President of Ballet Club, and a tutor. I dance to breathe, and to love, and to share what I believe in. I dance because, in the words of Friedrich Nietzsche, "We should consider every day lost in which we have not danced at least once."
Posted Date
Wednesday, November 19, 2014