2018-2019 Departmental Fellows
Departmental Fellows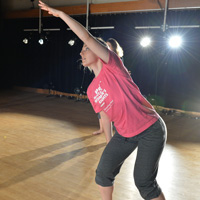 Bridget Ryan '19
Vail Scholar, 2017-2018, 2018-2019
Sri Lanka Travel Seminar
African Diasporan II
Text/Voice-Based Composition
Seminar in Production
Modern/Post-Modern II
Modern/Post-Modern III
Introduction to Movement Analysis
OnStage/OffStage: Dancing Gender and Sexuality
Somatics
Dance Appreciation
I have been dancing for the greater part of my life. When I was younger, I danced competitively and trained in various styles, including tap, jazz, hip hop, ballet, contemporary, and musical theater. I spent my first year of college at the University of Wisconsin—Eau Claire and then transferred to Denison my sophomore year, where I now study Dance and International Studies. Since transferring to Denison, my passion for dance has only grown.
I regularly perform in dance concerts on campus and also engage in many incredible pre-professional and professional experiences. I have participated in master classes from professionals in the field of dance from around the world. In 2016, I attended and performed at one of the American College Dance Association's regional conferences. In 2017, I attend the Ohio Five Dance Workshop, as well as the Bates/Gibney Dance Winter Intensive in New York City. In 2018, I attended a workshop with Dance Exchange on intergenerational dance making and creative practices.
During the summer of 2017, I worked as a Performing Arts Administrative Intern for the Chicago Human Rhythm Project (CHRP). At this non-profit organization dedicated to the preservation and celebration of percussive dance, I gained firsthand experience learning the ins and outs of running a non-profit dance organization. Most recently, I worked as a Dance Education Intern for the Mark Morris Dance Group in New York City, a much larger non-profit dance organization. How I understand dance in communities expanded immensely from working there. After graduation, I hope to continue dancing. I hope to continue sharing creative experiences and to create accessible and inclusive movement opportunities, specifically regarding age and physical ability, with and for individuals.
The dance department at Denison has provided me with such a solid foundation. I feel prepared to go into the world and chase my passion. While studying dance at Denison, I have been encouraged to take risks, to embrace uncertainty, and to explore my artistic interests. I have been wholeheartedly supported as a dancer, research, and human. I have made many meaningful and lasting connections, both with faculty and students. The dance department will always feel like home, and I am so grateful for this community. I am excited to share my passion for all things dance through my role as a Dance Fellow.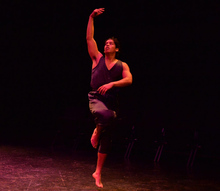 Alex Rivera '19
Major/Minor:
Dance, Philosophy and Economics Triple Major
Modern/Postmodern Dance I
Modern/Postmodern Dance II
African/Diasporan Dance II
Dancing Gender & Sexuality
Somatics I
Dance as Art Form
Growing up in Lima I was introduced to dance since my first teenage party at age 13. I would see all the kids dancing with each other and having a great time together. However, when I asked a girl out to dance and I gave it a go, I realized I was stiff as a rock and had no idea what to do. Since then, I subconsciously tried out all the dance extra-curricular activities from middle to high school. Dance group competitions between houses (as in Harry Potter), Peruvian dances, and many other workshops. I was never satisfied with my ability to dance and when I graduated from high school, I had given up on dance and would only dance in social spaces.
Then, I came to America. Immediately, I was severely unsatisfied with the low amounts of dance I was doing. I joined Sazón, the Latin Dance group in Denison, danced for a while and watched the dance performances. That kept me going for a while. In my sophomore year, I took my first Modern/Postmodern Class with Michael Morris and was so confused about what dance really was. I still remember when, on that semester, I saw Hailey Bruce's Senior Concert and I absolutely fell in love with dance. I wanted to be on that stage. I realized I was not going to stay seated and dance was something I wanted to do for the rest of my life. Much to my surprise, I would end up performing, dancing with those same women I once saw and so deeply admire.
Now, I finally feel like a fully fledged dancer. I'm looking into new ways of moving through time and space and explore what dance is and what it means in this world of moving bodies. I am excited to do research next year and to keep learning and, to keep dancing!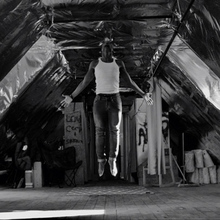 Vaval Victor '20
Major/Minor:
Dance Major, Anthropology/Sociology Minor
My dancing stated in my living room trying to imitate music video dancers from this show called 106 & Park. I really enjoyed the artist like Michael Jackson, Usher, and even Chris Brown for their dancing. This is where my love for Hip-Hop dance started. Through school, I joined an after-school art program called Young Audiences.
With the help of this program, I started going to Hip-Hop Dance camps. These camps were taught by former hip-hop dancers in New Orleans. This is where my training in Hip-Hop started. I also grew in the Southern Baptist church. This is where I learned Lyrical Spiritual Dancing.
Growing up I would perform in church mostly, but also in school. Along the way I fell in love with choreographing. When I got to college I didn't expect to become a Dance major, I simply knew I enjoyed moving. After taking a few classes, I was hooked. I plan to study how black dance has evolved from West Africa to, for example, the streets of New York. I also plan to find the answers to these questions using anthropological and sociological research methods.
Posted Date
Tuesday, November 27, 2018