Lectures & Discussions
On October 26, 7:00 pm, Herrick Hall was the site for a training with Paul Davis, on a non-violent activist strategy that is sweeping the nation, called Bird-Dogging. Paul Davis is a National Advocacy Coordinator for Housing Works in DC. This event was spearheaded by The Center for Black Studies and co-sponsored by the Denison Feminists who learned of this training opportunity through Black Studies major and primary organizer of the event, Maddie McKenney-Lydick. Davis trained Denison students and community members in the tactical art of Bird-Dogging. The purpose of this strategy is to ask questions that elected officials attempt to avoid talking about in public and push them to talk about the issues, commit, and act. Between his class visit (Social Movements, taught by Jackson Jackson of Black Studies and Religion) over 50 students and community members were trained in this technique. Training included how to identify which issues specific officials have the power to vote on and to influence other officials to support, how to prepare questions for public events such as town halls, campaign events, etc., how to effectively get called on at events as well as how to raise the question you want the official to discuss.
In addition to the training, Paul Davis talked with students about successful social change efforts in conversations over meals at Slayter and at the Homestead, giving examples from his work in collaboration with groups such as Indivisible and Act Up. Issues he covered included getting political officials to take a stand against HIV criminalization statutes, or make a pledge to support increased access and funding to fight AIDS. Bird-Dogging is currently being used in support of the Affordable Care Act to ensure that it is not replaced. Below from left: Paul Davis, Ethan McAtee, Will Ackermann, Maddie McKenney-Lydick, Fiona McNichols, and others listen intently at step-by-step training.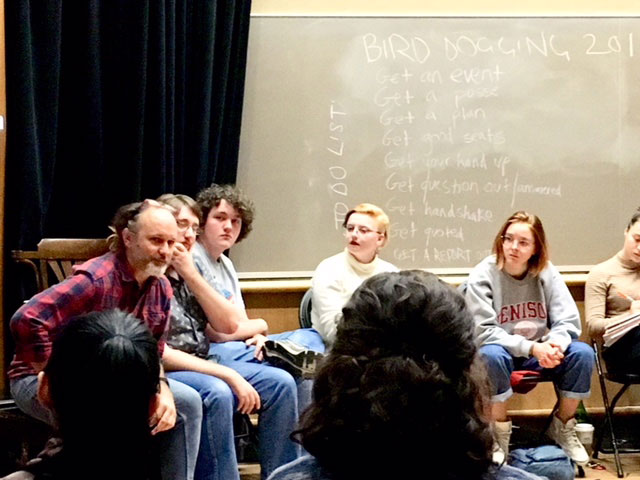 Paul Davis is a National Advocacy Coordinator for the non-profit organization Housing Works in DC—a healing community of people living with and affected by HIV/AIDS. Housing Works participates in advocacy, services, and social enterprise. Davis also works with Knowledge Ecology International (KEI), a non-profit NGO, to increase international access to Enzalutamide, an important cancer drug. Davis' past work includes serving as: campaign strategist for Universities Allied for Essential Medicines (UAEM), a global network of university students working to improve the research and development systems of universities to broaden global access to public health; Advocacy and strategy consultant for Partners in Health which pushes for stronger, more equitable health systems; and, Director of U.S. Government Policy and and of Global Campaigns respectively for Health GAP—dedicated to eliminating barriers to affordable life-sustaining medicines for people living with HIV/AIDS. To learn more about how to get the Bird-Dogging Training or to set up a training, contact: p.davis@housingworks.org
Posted Date
Wednesday, November 1, 2017